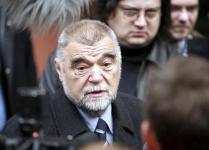 Croatia`s President, Stjepan Mesic, said that talks are taking place on dropping its genocide case against Serbia, with delegates from both sides participating.
The Croatian President stated in a interview with Belgrade newspaper Vecernje Novosti that Croatia's entry into NATO will contribute to the security of the entire region.
"With this act, Croatia has fulfilled one of its most important strategic aims. This concretely means that a wide market is opening up to us and that we are being offered multiple benefits. As a nation under the NATO umbrella, we shall now be able to get more capital for opening more workplaces.
Croatia joined that military-political alliance in order to strengthen its security, as well as contribute to the peace and stability of others, especially nations in south-east Europe" Mesic said during the interview.
"Discussions are being held about that, and we do not know what decision will be reached in the end. Both sides are participating in these discussions, and now delegations are being exchanged at all levels, and we will see what will be in the end" said Mesic.
He evaluated the relations between Croatia and Serbia as very good. "We are co-operating in all sectors, which is useful for both our countries, as well as [for] the whole region. I hope that we will continue that trend", said Mesic.
Serbian premier Mirko Cvetkovic said before meeting his Croatian counterpart Ivo Sanader that, if Croatia withdraws its genocide lawsuit, Serbia will do the same. "It is a possibility that, in the long term, relations can be normalised between the two countries, and to clearly show that as neighbours we have removed that obstacle inherited from the recent past", stated Cvetkovic.