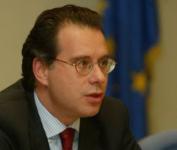 Greece hopes the new Macedonian President will cooperate in finding a compromise to the long-standing name row between the two countries, the Greek Foreign Ministry said on Thursday.
Athens hopes that Georgi Ivanov, the President elect from Sunday's poll, "will work on settling the name row in line with NATO and EU decisions", Greek Foreign Ministry Spokesman Giorgos Koumoutsakos told the Macedonian news agency MIA.
He added that resolution of the issue was "a prerequisite for the country's accession to the Euro-Atlantic institutions".
Last April, NATO stated that Macedonia will be invited to join the organisation as soon as it resolves the dispute with the Aliance member Greece, which has blocked its neighbour's entry.
Greece claims that the formal name of Macedonia must be changed for international use as it implies territorial claims over Greece's own northern province of the same name. Athens also threatens to stall Macedonia's EU accession.
Macedonia, on the other hand, insists on a compromise name that would only be used in bilateral correspondence, since only Greece has a problem with the current name.
The two countries have recently engaged in mutual accusations of stalling negotiations. Skopje claims Athens is being too stubborn while Athens has directed similar accusations to Skopje.
During his victory speech on Sunday, Ivanov, a member of prime minister Nikola Gruevski's conservative VRMO DPMNE party, stated the row with Greece will be his top priority.
But few local analysts think he could depart much from the so far hard-line policy of the PM Gruevski.
The candidate of the opposition Social Democrats, Ljubomir Frckoski, who was seen as promoter of a more pragmatic approach towards this burning issue, convincingly lost the poll.