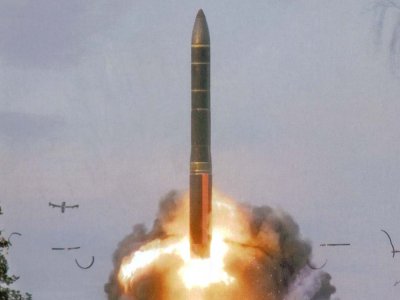 Russia successfully test-fired a Topol intercontinental ballistic missile on Friday as part of checks needed to extend its service life for up to 22 years, Russian media reported.
The Topol was fired from the Plesetsk cosmodrome, nestled among the forests of northern Russia, and successfully hit the test site on Russia's Pacific peninsula of Kamchatka, 6,000 km (3,700 miles) to the east.
"This launch confirmed the time extension for the Topol group of missiles for up to 22 years," Itar-Tass news agency quoted Colonel Alexander Vovk of the Russian Strategic Rocket Forces as saying.
Test launches of new missiles have become routine in recent years, and the Kremlin says the financial crisis will not discourage it from spending as much money as needed on defence. The Topol, which entered service in 1985, was last test-fired last October.
Russia has extended the highly mobile Topol's use way past the 10-year guaranteed operational life set by the manufacturer. It is designed to pierce anti-missile defence systems such as those that the United States has said it wants to build in Eastern Europe.
The RS-12M Topol, called the SS-25 Sickle by NATO, has a maximum range of 10,000 km (6,125 miles) and can carry one 550-kiloton warhead.