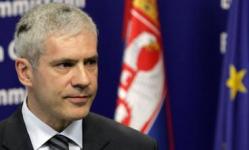 Serbia's President Boris Tadic has announced a visit to Kosovo on Friday, Kosovo's Public Television RTK reports.
The announcement by Serbia's head of state visit comes on the eve of Orthodox Easter and some 100,000 Kosovo Serbs are to take part in festivities in Kosovo.
Until now there has been no declaration from Kosovo's authorities. 
The visit by Tadic comes one day after Kosovo's authorities stopped the Serbian Minister for Kosovo, Goran Bogdanovic, from entering the territory. Bogdanovic was planning to have a meeting with the so-called Council of Serbian municipalities in Kosovo's north.
Since the end of the conflict between ethnic Albanians and Serbia in 1999, the Serbian minority has continued to rely on financial and political assistance from Belgrade, and refusing to recognise the authority of the ethnic Albanian-dominated government in Pristina.