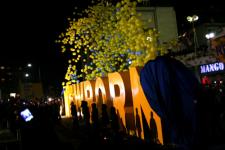 Recognitions of Kosovo's independence will continue before and after the decision by the World Court on its legality, says the International Crisis Group's Sabine Freizer.
"It will be good that the decision by the International Court of Justice shall not (explicitly) outline that the declaration of independence was illegal," said Freizer during an interview for Voice of America, adding that recognitions will continue even after the decision of the World Court.
According to her, Kosovo's government must play an important role to tell that world that their state is a contributing factor to peace and stability in the region.
Kosovo declared independence from Serbia in February 17, 2008 and has since been recognised by 57 states around the world.
With the request of Serbia to contest the legality of the declaration of independence in October 2008, the International Court of Justice is to come up with a ruling.
The decision by the ICJ is not mandatory to sovereign states but merely advisory