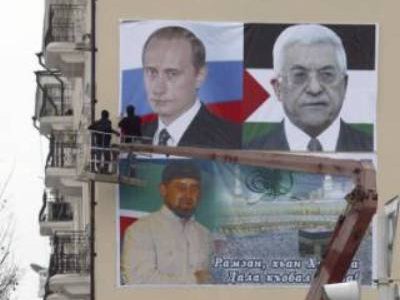 Russia has taken a gamble in giving Chechnya's independent-minded president responsibility for security as this may embolden him to attempt to wrest the province from Moscow's control. Russia has fought Chechen rebels in two wars since 1994 to crush attempts at independence, but in recent years the Kremlin has preferred to empower former enemies in exchange for their support against the remaining insurgents.
President Dmitry Medvedev took that process a step further on Thursday by lifting a so-called "special security regime" in an effort to normalise the situation in the mostly-Muslim north Caucasus territory.
Russian media quoted officials as saying 20,000 policemen and Interior Ministry troops would withdraw from Chechnya. Tight security restrictions such as curfews, roadblocks, spot searches and arbitrary detention mandated under the regime will now end.
The measures mean that 32-year-old President Ramzan Kadyrov, an unpredictable political operator who has made many enemies in his ascent to power, is now the war-damaged province's undisputed arbiter of security.
Analysts say Kadyrov is unlikely to repay this display of trust by following Moscow's wishes in every area of policy, even though his government is funded by the Russian Federation.
"PERSONAL FIEFDOM"
"There is a level of unpredictability…The creation of a personal fiefom is becoming a reality," said Matthew Clements, Eurasia analyst at Janes Information Group.
"The question is whether he will continue to accept Moscow's decrees or whether he might feel himself empowered to become more independent and a thorn in Moscow's side."
Kadyrov's increased prestige could encourage him to test the tolerance of his Kremlin backers to the limit, experts say.
Alexei Malashenko, an analyst at the Moscow office of the Carnegie Endowment for International Peace, said: "Kadyrov is becoming more and more a master of the situation. He is becoming more and more a king."
Tanya Lokshina, a North Caucasus specialist at Human Rights Watch in Moscow, said: "Kadyrov is enjoying almost absolute power in Chechnya."
"I wouldn't define Kadyrov's loyalty as reliable. In reality he doesn't play by Russia's rules, though he does demonstrate personal loyalty to (Prime Minister Vladimir) Putin."
Kadyrov, who has served the Kremlin by calming the mostly Muslim province since he took power with Russian backing in 2007, has said he was delighted with the Kremlin's decision.
The security restrictions have been in force in Chechnya since 1999, when Putin sent soldiers into the region to end its short-lived independence, won in an earlier war with Moscow.
Kadyrov, a prominent example of a former rebel who switched sides, has rebuilt Chechnya using Kremlin cash.
In Moscow, a senior Russian official said: "Kadyrov is completely loyal to Moscow and to the idea of Chechnya remaining within the Russian Federation."
But observers say Kadyrov has shown himself capable of promoting policies Moscow dislikes and his aquisition of greater security powers might strengthen his independent streak.
FOREIGN INVESTMENT
For example, Kadyrov has ushered in a series of Islamic-inspired rules such as requiring women working in government offices to wear headscarves and imposing periodic bans on alcohol.
Malashenko said it was important for Kadyrov to have the counter-terrorism operation lifted because it would make it easier for Chechnya to attract foreign investment from other Muslim states.
But policy is not his only element of unpredictability. He also has made many enemies, analysts say, during what they described as a violent process of establishing his own power.
"It's a culture of vendetta," said Neil MacFarlane, an Oxford University specialist on international relations.
"The way he consolidcated his power is quite problematic. People have got long memories and take families seriously. He's got lots of enemies."
Kremlin opponents say the special security regime, which also includes restricted access for journalists, has allowed numerous violations of human rights in the region.
In Moscow, Malashenko said: "He's loyal to Putin and popular for now with people in Chechnya but he has also done so much to other people and his enemies and to other clans that they could look for revenge."
MacFarlane said: "Russia has learned that attempting to govern Chechnya too closely is counterproductive and very costly and it is better to have someone do the dirty work for you."
"In Kadyrov they have stumbled upon someone who can keep a lid on things for a time… He inherited a mess, and he has managed to extirpate the organised, militarised opposition. For most people in Chechnya, things have improved."