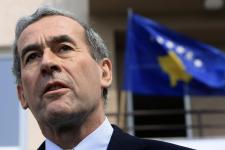 Head of EULEX, Yves de Kermabon has said that EULEX is able to ensure the safe visit of Serb politicians to Kosovo.
"The escort can be managed by Kosovo's Police or in case we consider this not to be enough we can help", said Kermabon in an interview for Serbia's daily, Vecernji Novosti.
According to him, Serb politicians wanting to visit Kosovo shall contact Javier Solana's representative in Belgrade, who later on will transfer the invitation to EU representatives in Pristina. Pieter Feith would then contact Kosovo's government in order to confirm the response to Serbian political authorities.
Kermabon's declaration came after Serbia's President, Boris Tadic's visit to Kosovo for Orthodox Eastern celebrations.
The opposition camp and civil society objected the Serbian President's visit to Kosovo, arguing that local government must abide by the laws derived from Kosovo's Constitution which explicitly stipulates that foreign officials and dignitaries must ask for and receive permission to visit Kosovo from the government in Pristina.