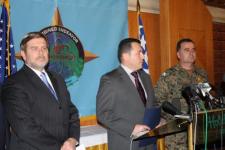 A three-day planning conference started in the Bosnian capital of Sarajevo, on Tuesday, is preparing for NATO exercises which will be held in the country later this year.
Alliance's "Joint Endeavor 2009" military exercise will be held in northwestern Bosnia and Herzegovina in September later this year. This is not the first time in its 14 year history that the exercise is not being held in Germany, but it is the first time for it to be held in a country that is still not a NATO member.
A three-day Sarajevo conference gathered more than 280 officials from 40 NATO member or Partnership for Peace countries, who met to work on a more detailed plan for the exercise. The conference was opened and attended by Bosnian Defense Minister Selmo Cikotic, US ambassador Charles English, US Brigadier General James Adkins, commander of the Maryland National Guard, and other political and military dignitaries.
"The United States of America can hardly wait for when Bosnia and Herzegovina will fulfill conditions to become a NATO member," ambassador Charles English said at the opening of the conference. He stressed that holding the NATO exercise in Bosnia was made possible thanks to the excellent reform of country's defense system and military forces over the past few years.
The conference comes only three weeks after Croatia and Albania were accepted into full NATO membership. Bosnia is also advancing on that path. Bosnia has developed an Individual Partnership Action Plan (IPAP), which was jointly approved by Bosnia and Herzegovina and the North Atlantic Council in September 2008 and discussed at NATO headquarters in March earlier this year.
During that meeting NATO congratulated Bosnia on the progress achieved in defense and other reforms, but also expressed concern that country's political deadlocks could slow down its Euro-Atlantic agenda.
Both Bosnian and NATO officials expressed hopes that these obstacles would be removed by the time of NATO exercises in September 2009.