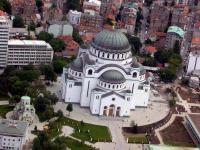 The mission of European Commission arrives in Belgrade today for talks with Serbian officials on a financial help package worth EUR 100 million.
The financial support for the Serbian Budget will be provided for by the European Union's Instrument for Pre-Accession assistance, or the so-called IPA funds. Serbian Government and European Commission officials should be working the conditions for receiving the support and how it will be spent.
The mission of the European Commission will have negotiations today on these conditions with the National Bank of Serbia's Governor, Radovan Jelasic, Deputy Prime Minister Bozidara Djelic, and representatives of the Finance Ministry, and the State Revisory Institution.
Ognjen Miric, IPA Funds Coordinator in Djelic's cabinet, told TV B92 that Serbia is going to insist on the suggestion that the monies secured from IPA funds go toward priorities specified by the National Integration Programme, such as supporting Laws on agricultural development and infrastructural projects in the environmental arena. "After today's meeting we will know where the money will go, and confirm its arrival by the second half of this year," Miric said.