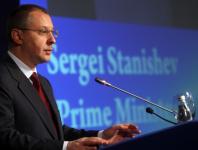 Bulgarian PM at a forum on energy speaks about Bulgaria's potential to become market leader in energy and natural gas industry.
Bulgaria is beginning to see itself and the potential it has to become the main distributor of natural gas for the entire Southeastern Europe and the Black sea region.
On Friday, Bulgaria's Prime Minister, Sergey Stanishev, expressed his opinion about the future of the country actually becoming a key leader in the energy sector for the Balkans and and the Black sea region. 
In a speech made at the energy summit 'Natural Gas for Europe', Stanishev gave a keynote address at the business forum which stressed many key natural and political advantages of Bulgaria.
The PM spoke about Bulgaria's strategic location between Asia, Russia and Europe, outlined the lessons learned from the January gas crisis, and related issue of the security of gas supplies, speaking in length about the "Nabucco" gas line as a main priority project for the country and the European Union.
The business forum included over 400 participants, at the official opening of the forum led by Stanishev, the discussion of the energy business continued with exhibits from the largest firms in the energy sector, such as 'Gazprom', and 'Gas de France' being notably amongst them.