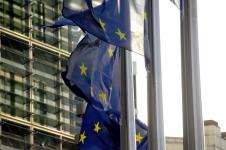 European Commission has welcomed Albania's application for EU membership.
"Today, Albania has reached a historical milestone marking the country's important engagement to common European values and fundamentals", Director General for Enlargement, Michel Leigh who was present during the ceremony.
Albanian Prime Minister Sali Berisha, officially submitted on Tuesday, the country's application for EU candidacy status during a visit in Prague to the rotating Czech presidency of the European Union. 
The decision to apply was still made, after much insistence on the part of EU officials not to undertake the move before country's general elections in June. European officials always insist that the free and fair electoral process in Albania would be seen as a major "exam" for country's further progress toward European integration.
Even EU`s Enlargement Commissioner, Olli Rehn, recently appealed to Tirana officials not to submit the application before the general elections. However, after the Albanian government confirmed that it would undertake the move, the decision was welcomed.
"Albania has the right to apply for EU membership, and at the same time the forthcoming elections will be a critical test of political stability and the ability to meet the essential political criteria by Albania", Rehn said on Monday night in Luxembourg.
Michael Leigh from the European Commission after today's ceremony warned, "It is for the Council to decide on the way ahead. The Commission stands ready to prepare an 'Opinion' about Albania's application, should the Council invite us to do so", Leigh said.
According to the procedure, the Council of Ministers will have to give a mandate to the European Commission to start preparing so-called "Avis" which would evaluate if Albania is ready to become an EU candidate country. The Council will most likely pass th