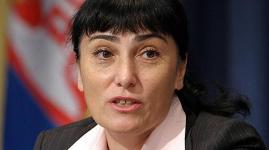 A spat between Vojvodina deputies and Serbia's Finance Minister threatens to derail parliamentary adoption of a rebalanced budget.
Deputies are scheduled to vote on the newly proposed budget on Wednesday – whose adoption is necessary in order for Serbia to curb spending in line with agreements drawn up by the IMF.
But it is now unclear whether the government will manage to muster sufficient support for the proposals as Vojvodina deputies – angry at remarks made by Finance Minister Diana Dragutinovic that the province will not receive its remaining seven per cent allocation from the federal budget until June – may vote against it.
Vojvodina parties claim that this goes against an earlier agreement they made with the prime minister in which they were assured that they would get their money right away.
In an interview with the radio B92, Dragutinovic sought to downplay the spat, saying that she expects the proposed budget rebalance to be adopted. She said that the province will receive the rest of its allocation upon adoption of the law on the transfer of jurisdictions.
"What's important is that there is seven per cent, and they will get their seven per cent. It is irrelevant whether it will start being spent on May 1 for June 1, when it's the same amount," Dragutinovic said, repeating that the province will get its money. "A guarantee was given, and an agreement was reached," she said.