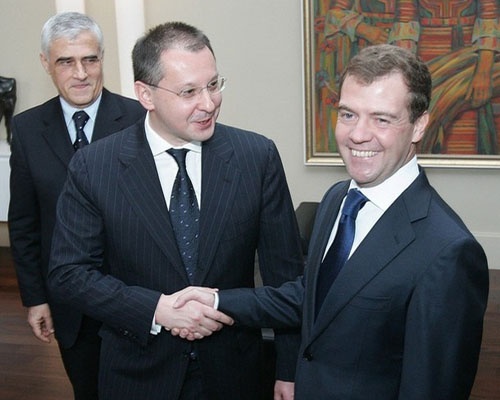 Bulgarian PM Sergey Stanishev's delayed meeting with Russian President Dimitry Medvedev took place late Tuesday in the Barbihka residence near Moscow.
The half-hour meeting took place after the two delegations from Russia and Bulgaria had finished day long talks in Moscow. Medvedev informed Stanishev that he was aware of the success of the talks stating, "The difficulties have been cleared".
Stanishev explained that the negotiations between Gazprom and the Bulgarian Energy Holding on energy project 'South Stream' had ended successfully.
"I know that all negotiations are complicated, especially the ones held on corporative levels as each part defends its own interest. But it is the politicians who resolve the disputes," added Stanishev.
Stanishev expressed before President Medvedev his content that Russia had accepted all Bulgaria's proposals.
Stanishev left 'Barbikha' residence and made for Moscow to meet with Moscow mayor Yuri Luzkhov in his last official Russian engagement.
Stanishev's visit to Russia had begun in controversy after Medvedev had cancelled their scheduled Monday meeting and after the international Energy Summit in Sofia, which was boycotted by Russia's Prime Minister, Vladimir Putin.