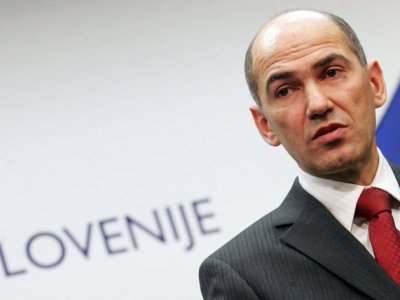 If we want the current initiative of the European Commission on resolving the border issue between Slovenia and Croatia to work, "Slovenia would have to receive a much better proposal that Olli Rehn`s latest proposal", former Slovene prime minister and the president of the most powerful oppositional party, the Slovene Democratic Party, Janez Jansa said on "Odmevi" Slovene TV show on Wednesday night.
Explaining why parliamentary parties could not agree on the remarks they are supposed to send to Rehn`s proposal as they met with Slovene Prime Minister Borut Pahor, Jansa said that the opposition was not the reason why this did not happen, but a party of Pahor`s coalition did not agree with the remarks.
Jansa criticised the Slovene diplomatic apparatus, especially Slovene representatives in the European Commission, for not securing a better proposal of the European Commission for resolving the row, adding that Croatia was more active than Slovenia, which is a member of the European Union, because the new Slovene government has still not appointed ambassadors in some key countries, giving "advantage" to Croatia.
According to Janze Jansa, Slovenia should present the same terms which it presented during his term two years ago, when "nearly complete consensus was reached on the matter".
Fairness, not equality
According to him, Slovenia should insist that the border dispute cannot be solved without the principle of fairness (ex aequo et bono, Latin meaning according to the right and good), in order to secure historic and other circumstances to be heard and not agree to the principle of equity. At the same time, he explained, the remaining two terms should be that the sea and land border are determined according to the same principles as a whole and not for them to be separated, at the same time maintaining the situation which was in effect as both countries gained independence on June 25, 1991 or at "a more favourable date for Slovenia".
Slovenia interprets that maintaining the situation upon independence means that the whole of Piran Bay belongs to Slovenia and unobstructed territorial exit to the open Adriatic Sea.
PM Borut Pahor said that a new round of talks with parliamentary parties would be held on Tuesday afternoon and that Slovenia wants to have enough time to clear certain dilemmas regarding formulations in Rehn`s proposal.
Pahor said that it was possible for parties to agree on Rehn`s proposal on Tuesday and in that case, Slovenia should respond next week already.