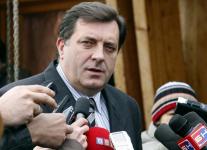 Bosnian Serb leader Milorad Dodik caused a new diplomatic and political scandal, by calling off ethnic Serb soldiers from NATO exercises in Georgia, local media reported on Friday.
"Bosnia and Herzegovina has no reason to participate in this (exercise)," Dodik, who is Premier of the Serb-dominated Bosnian entity of Republika Srpska, said on Thursday afternoon in Banja Luka.
He then called upon Bosnian Serb soldiers, who were supposed to travel to Georgia as a part of 17-member Bosnian Army team which was invited to participate in the event, to boycott the invitation. It is still unknown how many Bosnian Serbs were within this team and whether they have or will obey Dodik's call, although entity authorities have no power over the country's defense which is set up at the state level.
Dodik's statement is also believed to be related to historically close political links between Serbs in the Balkans and Russia, which has been strongly opposing NATO's decision to hold exercise in its neighboring Georgia from 6 May to 1 June.
Infuriated by Dodik's move, Bosnian Croat member of Bosnian tripartite presidency, Zeljko Komsic, called upon the Bosnian State Prosecutor as well as Bosnia's High Representative Valentin Inzko, to sack Dodik from his position and then press charges against him for enticing for insubordination.
Dodik was quick to reply. By Thursday night, his spokeswoman Biljana Bokic also asked Inzko to use his broad governing powers to dismiss Komsic from office, because of his statements "which offend intelligence of average citizens of Bosnia and Herzegovina."
She added that Dodik had all the right to express his political opinions.
Dodik's call and the following heated exchange reflect tensions and animosities which have been running high on Bosnia's political scene for the past three years. These tensions, initially instigated by Dodik and Bosniak (Bosnian Muslim) leader Haris Silajdzic, spread to other politicians and triggered the worst political crisis in Bosnia since the end of its 1992-5 war.