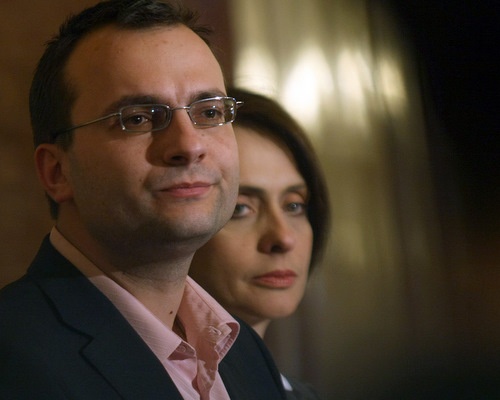 The recently elected leader of the biggest opposition right-wing party in Bulgaria, whose running in the upcoming European election was allegedly undermined by people close to the ruling parties, conferred with EU ambassadors on Thursday.
Martin Dimitrov was accompanied by the leader of the so-called Blue coalition ballot for the upcoming European elections on June 7, former Foreign Minister Nadezhda Mihaylova.
"We briefed the envoys on the delay in the court registration of the new Union of Democratic Forces (UDF) leadership and the unfair play the party struggles with," Dimitrov said, following his meeting with more than twenty EU member-states ambassadors.
In his words the political pressure that UDF has fallen victim to is a problem not only for Bulgaria, but for the whole European Union, while the problems in the country's judicial system cast a shadow over its status of a fully-fledged member of the block.
Martin Dimitrov's failure to get court registration and run in the European Parliament vote has been linked to magistrates' vested interests. The scheme is suspected to have been masterminded by people close to the ruling Bulgarian Socialist Party and its key coalition partner, the ethnic Turkish Movement for Rights and Freedoms, and executed by Dimitrov's predecessor Plamen Yurukov in a bid to undermine the party participation in the summer elections.
The UDF party is now part of the so-called "Blue Coalition", bringing together five right-wing formations and headed by the leaders of Democrats for Strong Bulgaria (DSB) and the Union of Democratic Forces (UDF) Ivan Kostov and Martin Dimitrov.
The right-wingers hope that even though the abbreviation UDF does not feature among the parties in the right-wing coalition due to legal issues, its members and supporters can back the party by casting a vote for the coalition.