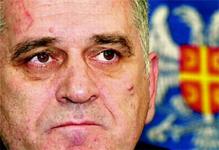 The right wing Serbian Progressive Party (SNS) launched a campaign for early parliamentary elections at a rally held in Nis Wednesday, calling it "Serbia's Future Begins Today".
The SNS at the rally claimed it was going to stand for getting tougher on crime and corruption, promote decentralisation of government, and work toward building a better standard of living for Serbia's citizens. The party leader, Tomislav Nikolic, said that the party is calling for a new election, but was also offering cooperation to the opposition parties.
The campaign started off with a call for new elections, and shot accusations against the current government.
Aleksandar Vucic, Deputy Leader, asked citizens to thinker harder when the time came to vote, explaining that Serbia needed a stronger government that would be ready to carry on dialogues between the East and West.
Nikolic called on President Boris Tadic to dissolve parliament and call new elections.
Senior SNS official Jorgovanka Tabakovic, presented the party's main plan for decentralisation, which involves moving interior ministry headquarters to Novi Pazar, moving government headquarters to Kragujevac, with the economic and regional development ministry relocating to Nis.
"That way, all the citizens will live better, because money will be spent in other Serbian cities, not just Belgrade," Tabakovic said to the daily.