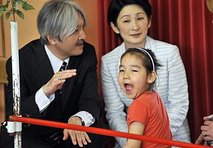 BUCHAREST
Prince Akishino, the second son of Japanese Emperor Akihito, and his wife Princess Kiko arrived in Bucharest Tuesday for a visit to Romania, the last stop of a European tour, the Japanese Embassy said.
The couple is to visit the Japanese School in Bucharest on Tuesday, before meeting Romanian President Traian Basescu on Wednesday.
The prince and the princess are also to hold talks with the chairman of the Senate Mircea Geoana and the chairwoman of the Chamber of Deputies Roberta Anastase during the four-day visit.
Later on Wednesday, they are to visit the Village Museum in Bucharest, an outdoor museum hosting 200-year-old authentic Romanian houses and churches, where they are to plant cherry trees.
On Thursday the couple is to pay a visit to the Carpathian mountains resort of Sinaia, where they will visit the royal palace of Peles and an Orthodox monastery.
The couple has already visited Vienna, Sofia and Budapest during their European tour.
This year marks the 140th anniversary of Japan's diplomatic ties with Austria and Hungary and the 50th year since the resumption of formal relations with Sofia and Bucharest.
According to a Japanese Embassy statement, 2009 was declared the "Japan-Danube Friendship Year".
It will be marked by various cultural events in the four countries situated along the Danube River.