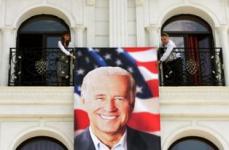 Vice President Joseph Biden during a special session at Kosovo's parliament, during which President Fatmir Sejdiu decorated him with the Medal of Liberty for his contribution towards securing his country's independence.
"I want to thank you for one of the greatest honours in my career, the Medal of Liberty," said Biden. 
"I was concerned that I would never be able to address you in this environment, in a free Kosovo… Kosovo's independence was the only viable option and is absolutely irreversible. We are ready to help you developing your state," he said, reminding them of the days in which former Yugoslav President Slobodan Milosevic led a campaign of ethnic cleansing in their country.
In his speech, the vice president praised the EU's Rule of Law mission, EULEX, for =the way it has handled the recent "provocations in the North", and he urged Kosovo's Serbs to "integrate in the new society rather than relying on the parallel structures sponsored by Serbia".
Kosovo's senior leaders sought to reassure Biden that Kosovo is prepared to take on the responsibility that comes with independence.
"The Republic of Kosovo is committed to a peaceful present and future. Kosovo is showing that it is a factor of peace and stability in the region," said Sejdiu.
Kosovo's Premier, Hashim Thaci said that Kosovo is a multi-ethnic state and is home to all its citizens.
He again thanked Biden for the role that he has played in securing Kosovo's independence. "You remain a great friend of Kosovo, and we will never forget your role in accomplishing our dream… We have changed Kosovo and we want you to feel proud of what we have achieved in Kosovo", said Thaci.
Hundreds of people gathered in Pristina holding US and Kosovo flags to welcome Biden.