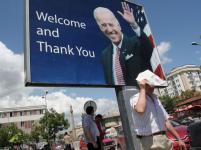 US Vice President Joseph Biden touched down in Kosovo Thursday, to a rapturous welcome from a people grateful for US support in their struggle for independence.
Large billboards saying "Welcome Vice President and Thank you" lined Pristina's streets in anticipation of his arrival. US flags, along with the new Kosovo flag, lined the road from Pristina's airport to the capital. 
"We are happy for US support toward Kosovo as a state.. I say it from the bottom of heart: God Bless America," said President Fatmir Sejdiu, after a meeting with Biden.
The visit "is a powerful confirmation of US support to Kosovo," said Prime Minister Hashim Thaci, adding: "Mr Biden Kosovo is proud of you."
Biden thanked his hosts. "I'm happy to return to Kosovo and be welcomed this warmly. Its good to see that people are ensured a prosperity. Kosovo's independence is irreversible," he said.
Biden has been a prominent supporter of Kosovo's independence, and US support for Kosovo was a principal factor in Pristina's move to declare unilateral independence in February, 2008.
Thaci used the opportunity to repeat his commitment to a mulit-ethnic Kosovo: "We acknowledged for the rights of minorities, the rule of law and Kosovo's path toward Euro Atlantic integration," he said.
Kosovo's media view the visit as proof that the US is renewing its interest in the region, and in Kosovo in particular.
On this last part of this three-day Balkan tour after visiting Sarajevo and Belgrade, Biden will address Kosovo's Parliament in a special session, and also visit the US NATO military headquarters in the country at Bondsteel.
Serbs living in Kosovo's north have announced protests at the bridge dividing the flashpoint town of Mitrovica between the Serb-dominated north and the Albanian dominated south.
They view Biden is one of those responsible for NATO's decision to bomb Serbia in 1999 that led to the hiving off of Kosovo from Serbia.