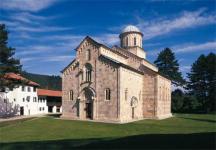 The Serbian Orthodox Church has overruled an earlier announcement by the of Bishop Artemije of Raska and Prizren, and has decided to endorse US Vice President Joseph Biden's visit to Kosovo's Visoki Decani monastery Thursday.
Controversy began when the Raska and Prizren Diocese told media Wednesday that Artemije harshly criticised the vice president's visit. 
"The American vice-president is coming to visit Kosovo as an independent country, to confirm the violent secession of a part of the territory of the state of Serbia and its transfer into the hands of terrorists, who, unpunished, committed countless crimes against Serbian people, property and religious and cultural heritage," read the statement from the Raska and Prizren Diocese, as reported by the media.
In the statement the Diocese questioned whether Biden's visit was planned as a show to mark Decani as an American base in Kosovo, similar to the US NATO Bondsteel camp in Kosovo.
The Serbian Orthodox Church has expressed its apologies to Biden.
The Church said Bishop Artemije's statement ran counter to the traditional Christian principles of hospitality, deeply rooted in Serbian culture and people's hearts. It said monasteries are places of worship, understanding and compassion.
"Biden's visit is a legitimate visit to states in the region, including Serbia, and the Church believes that, regardless of Biden's personal stance and the general American stance on Kosovo's status, the decision for Mr Biden to visit our greatest shrine in our southern province, the Decani monastery, constitutes a gesture of good will and is a clear message to those that want to continue destroying or usurping Serbian churches and monasteries in Kosovo," the Church stated.
Biden is scheduled to visit the High Decani monastery Thursday.