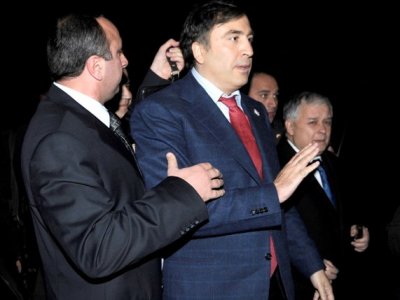 Georgia's influential Orthodox church called on Thursday for snap elections or immediate dialogue to end an "explosive" stalemate between the opposition and President Mikheil Saakashvili.
The statement's recognition of elections as a potential way out will give the opposition new heart after seven weeks of street protests demanding Saakashvili resign over his record on democracy and last year's disastrous war with Russia.
"The situation in the country is explosive," Orthodox Patriarch Ilia II said in a statement.
"The authorities should take efficient steps that envisage holding early elections or the immediate start of negotiations," he added.
An opposition threat to block the main highway and the vital railway line, which some protesters blocked briefly on Tuesday night, deepened fears of violent confrontation in the former Soviet republic, a transit route for oil and gas to the West.
The patriarch is a hugely influential figure. Some 60,000 protesters rallied on Tuesday at the national football stadium, before marching to the Holy Trinity Cathedral to hear him speak.
The patriarch said then that dialogue was needed, asking what Georgia had gained by ousting its first two presidents since independence in 1991. Disappointed, some opposition leaders accused authorities of putting pressure on the patriarch.
Critics accuse Saakashvili of monopolising power since the 2003 "Rose Revolution" that swept him to the presidency. The 41-year-old president has come under renewed pressure since last August's five-day war, when Russia crushed a Georgian assault on the breakaway pro-Russian region of South Ossetia.
Saakashvili has so far resisted calls to resign, and analysts say he is counting on the opposition splitting.
Watched closely by Georgia's Western allies, authorities have so far resisted repeating a 2007 crackdown by police firing tear gas and rubber bullets against the last peaceful demonstrations against the president.
But a brief clash between police and protesters in early May, a day after a failed, bloodless mutiny at tank base outside Tbilisi, has raised fears of a wider anti-government rebellion. The turmoil has overshadowed NATO military exercises running through May in Georgia, to the anger of neighbouring Russia.