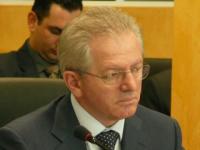 Kosovo's foreign minister Skender Hyseni landed in New York Tuesday, beginning a round of over 30 meetings to lobby for more countries to recognise Kosovo's independence.
Since its declaration of independence in February 2008, Kosovo has been recognised by 60 countries around the world, helped by lobbying efforts from both government, opposition and countries that support Pristina's independence.
Since arriving in New York, Hyseni has met with officials from Yemen, South Timor, Pakistan, Egypt and Haiti.
Opposition party Alliance for a New Kosovo said on Wednesday that El Salvador will officially recognise Kosovo's independence on June 2.
Kosovo media are following the visit closely. According to media, during meetings with Hyseni, Yemen's ambassador to the US, Abdullah M. Alsaidi, stated that "Kosovo's independence has no alternative", and while Pakistan has still not recognised Kosovo's independence, its ambassador to the UN Abdullah Hussein Haroon told Hyseni that "the Pakistani government supports the Kosovo cause".
Egypt on the other hand has not shown support for Kosovo's independence. According to Serbia's President Boris Tadic, Egyptian President Hosni Mubarak assured him that his country would not recognise Kosovo.
However, media report that the Egyptian ambassador to the UN, Maged A. Abdelaziz told Hyseni that Eqypt is closely following development in Kosovo, and added that Haiti's ambassador to the US, Leo Merores said that his government will soon review the request for recognising Kosovo's independence.