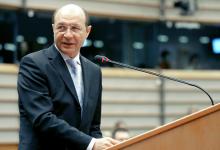 Romania's president has canceled a planned trip to Moldova's capital Chisinau where he was due to take part in the South East European Cooperation Process, SEECP, on 5 June.
In a statement late Wednesday, the president's office said his participation is "no longer current," due to the events following the violent riots that erupted after the opposition claimed Moldova's elections on 5 April were rigged.
"Following events marking the post-electoral period in the Republic of Moldova, Romania's President Traian Basescu participation in the SEECP Summit, confirmed in March, is no longer possible," reads a statement from the president's cabinet.
It said Romania's representation in this summit will be decided and announced at a subsequent date.
Moldovan President Vladimir Voronin has accused Romania of trying to overthrow his government in organising the protests in which at least two people died, and threw Romania's ambassador to Chisinau out of the country.
Romania has denied the accusations. Almost 80 per cent of Moldovans are ethnic Romanians.