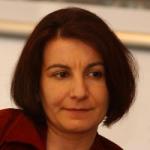 The ruling ethnic Albanian party in Macedonia has given a deadline to its bigger coalition partner to solve the burning name row with Greece and move the country's stalled Euro Atlantic integration forward by the end of the year.
"The grace period that (the Democratic Union for Integration), DUI gave to VMRO DPMNE ended after the (March) local election," DUI's vice President Teuta Arifi told local Alsat M TV on Thursday.
If the problem remains unsolved "we will have to seek new alternatives", she said.
Greece blocked Macedonia's entrance into NATO last year, demanding that Macedonia changes its constitutional name first which collides with that of Greece's own northern province.
Back then DUI gave VMRO DPMNE carte blanche to solve the issue on its own. But months of lengthy negotiations have not succeeded in resolving the issue.
The current stalemate has put DUI into an increasingly difficult position since it is facing pressure from its electorate and opposition Albanian parties to toughen its stance and put pressure on VMRO DPMNE to cut a deal with Greece, which would in turn open the door to NATO.
The impasse "creates unneeded inter ethnic tensions", said Arifi.
Opinion polls show that ethnic Albanians, making up about one quarter of the population, are far more ready to compromise on the name in order to get the country into NATO. Macedonians on the other hand link the country's name with their identity.
Arifi warned that the prospect of NATO and eventually EU membership is the most potent force keeping the country's Albanians and Macedonians together, and the further this prospect is pushed away, the more precarious this relationship becomes.
"The only concept that can put these two people on the right course is NATO and EU. If the Albanians and Macedonians are stripped from this perspective… then this is a direct jeopardy to the state's existence, this is unacceptable," she said.
Arifi's statement comes one day after DUI's head Ali Ahmeti reiterated in Brussels after meting with high EU and NATO dignitaries that the party strongly wishes for a compromise on the name to be found that would unlock Macedonia's NATO accession.
Media say the DUI is additionally annoyed with its governing partner, after Kosovo President Fatmir Sejdiu canceled his visit to Macedonia after it was downgraded to a "working" rather than an "official" visit.