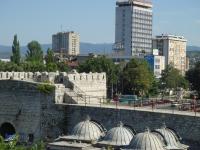 A fierce row over the route that the South Stream gas pipeline will take through Serbia has erupted in the city of Nis, after Belgrade backtracked on earlier promises.
Local authorities in Nis are demanding written guarantees from the government that the country's largest southern city will not be left out of any future gas supply, asking that it will be an important hub once the pipeline is built and gas starts to flow. 
The argument erupted after Serbia's state gas company Srbijagas recently signed an agreement with Russian gas giant Gazprom to set up a joint venture company that will oversee a feasibility study as well as the construction of the Serbian part of the pipeline. Once finished, the South Stream pipeline will bring Russian gas and oil from Russia into Western Europe.
Politicians in Serbia had initially said that the gas would enter Serbia from Bulgaria via Dimotrovgrad and then pass Nis, but these plans have now been changed and foresee the pipeline entering Seriba further north via the town of Zajecar.
Commentators say Serbian politicians had made the promise for political marketing purposes, in order to support the local authorities in Nis, although they had no guarantees that it would really happen, because the final word on the project comes from Gazprom.
"We have been tricked by senior state representatives who led us to believe that the South Stream would certainly run through Nis, which for out city is now an irretrievable loss," said a member of the opposition.
Nis's mayor Milos Simonovic said "after the change of the route, Nis will lose its geostrategic position, which will have an affect on previous statements that the South Stream could be 'additional magnet' for foreign investors to come to this region of Serbia."
Local authorities have now asked the government and Srbijagas to ensure that the revenues from gas supply and distribution be used for the gasification of southern and eastern Serbia. They have also asked for a gas plant to be built in Nis.
Srbijagas says the decision to change the planned route was motivated by financial and not political reasons. "The decision on where the section would run was made by the Russian Gazprom and their Italian partner Eni," said general manager of Srbijagas Dusan Bajatovic, during recent talks with the Nis city management and representatives of local political parties.
Bajatovic said that under the new plan, the gas pipeline running through Serbia will be shorter, cutting the cost of gas distribution, meaning that the end consumers will receive gas that is eight to ten times cheaper.
"Serbia, which opted for the route via Dimitrovgrad (and southern Serbia) because of larger transit taxes, would lose a part of its transit revenue, but we must not forget the fact that the South Stream is running through Serbia after all, and it did not have to, as well as that after it is built, there will be no more monopoly or blackmail from Ukraine and Hungary regarding gas supply," said Bajatovic.
He said Nis will not lose anything because of the changed plans, adding that Nis will have sufficient gas to meet its requirements, that it will remain a gas hub for the further gasification of southern and eastern Serbia, and distribution of gas to Macedonia and Kosovo.
A final decision on which route the pipeline will take will be made after the feasibility study is finished next year.