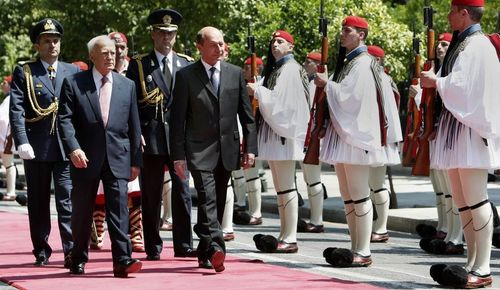 Romania supports the Greek position in the bilateral dispute between Athens and Skopje about the use of the name Macedonia, media reports said.
Speaking after meeting his Greek counterpart Karolos Papoulias in Athens on May 27 2009, Basescu said: "The principle of good neighborly relations represents an obligation for all countries regardless of whether they are or aren't members of the European Union".
Reporting Basescu's statement, Russian agency RIA Novosti said that it was notable that Romania recognises Macedonia under that name.
Greece accepts only that the country is referred to as the Former Yugoslav Republic of Macedonia. United Nations-brokered attempts to resolve the dispute, which has led Athens to block an invitation to Macedonia to join Nato and seen Macedonia retaliate with international court action, have failed so far.
Greek media reports quoted Papoulias and Basecu as paying tribute to the friendly relations between Greece and Romania.
Papoulias said that he and Basescu supported the countries of the Western Balkans joining the European Union and emphasised the importance of good neighbourly relations.