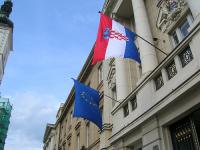 Following a Monday meeting in New York, Croatian Prime Minister Ivo Sanader and EU Enlargement Commissioner Olli Rehn concluded that it was possible for Croatia to finish EU accession negotiations by the end of the year.
"We discussed all aspects of the negotiations with the EU and we remain optimists in terms of the possibility to complete this process by the end of this year, as foreseen in the last Report of the European Commission," Sanader told reporters after the meeting, according to local and international news agencies.
Sanader and Rehn discussed EU member Slovenia's blockade of Croatian accession negotiations. The EU enlargement commissioner purportedly said that EU member-countries were working on finding a resolution to the issue.
"We talked about the way to de-block [negotiations], and if we find a solution, it is possible to close the technical part of the negotiations between Croatia and the EU by the end of the year," reporters quoted Rehn as saying.
Years of strained relations with Slovenia, particularly over unresolved territorial disputes, have made Croatia's EU membership negotiations difficult.
The two countries have failed to complete the drawing of their land and sea borders, since gaining independence from Yugoslavia in 1991.
Croatia opened membership talks with the EU in 2005, but requires support from Slovenia, which joined the club in 2004, to finish negotiations. All other EU member states have given Croatia the green-light for accession talks.
Among the two countries' territorial disputes, jurisdiction over the Piran Bay is a particularly heated issue. Both countries claim ownership over the bay. A draft agreement in 2001 gave Slovenia 80 per cent of the bay, but the agreement was never ratified, and Croatia is now demanding 50 per cent.