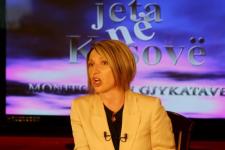 The international organisation responsible for monitoring press freedom in Kosovo has joined calls urging the government to condemn threats against BIRN's "Life in Kosovo" television show and its presenter.
In a strongly worded letter, the OSCE chief of mission in the country, Werner Almhofer, said he had followed the campaign against popular Kosovo journalist Jeta Xharra, the host of the weekly programme, with "regret and deep concern". 
He added that he expected the government to publicly condemn threats "which endanger freedom of expression and freedom of the press in Kosovo".
The OSCE joins a growing army of high-ranking officials, as well as international and non-governmental organisations, to express concern at a series of articles published in the Kosovo press attacking Xharra, her show and RTK, the publicly funded station which broadcasts the programme.
"Life in Kosovo" sparked controversy on May 28 when it discussed recent dismissals of journalists who inconvenienced the authorities, and how government advertising is used to influence the media landscape.
It featured a video report in which the BIRN Kosovo news team was assaulted outside the culture house in Skenderaj and forced to leave the town by an unidentified armed man who confiscated their footage.
Since then, Xharra and BIRN have been labeled "spies" for Serbia and have received numerous threatening letters.
Infopress newspaper, which receives the lion's share of government advertising revenues, has led the campaign with a succession of inflammatory articles on Xharra and the programme, claiming they had sought to denigrate the Drenica region, the heartland of the Kosovo Liberation Army.
An opinion piece published by the newspaper suggested that "Jeta has brought it upon herself to have a short life". The newspaper has since downplayed the comment, claiming it should not be construed as a threat to the journalist's life.
In a letter to BIRN, Almhofer said that the OSCE, a sponsor of the show, condemns the opinion pieces aimed at "Life in Kosovo", which "intend to limit basic principles of freedom of expression and potentially violate journalistic codes of conduct".
He added: "The OSCE expects the Government to publicly condemn any statements which endanger freedom of expression and freedom of the press in Kosovo."
The comments follow similar calls from Human Rights Watch on Tuesday. "These attacks are clearly aimed at silencing the kind of journalism and investigative reporting that makes the government uncomfortable," said Wanda Troszczynska-van Genderen, Western Balkans researcher at Human Rights Watch. "The president and prime minister need to make clear that they don't want any part in this kind of behavior and that threats against journalists will be fully investigated."