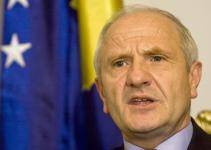 The Kosovo President's Office on Wednesday announced that Pristina and Skopje would soon establish full diplomatic relations, Macedonia's MIA news reports.
"We will soon appoint ambassadors and establish bilateral relations," Xhavit Beqiri, spokesman for Kosovo President Fatmir Sejdiu, told local media.
The spokesman stressed that the Kosovo president was interested in establishing diplomatic relations, denying that Sejdiu's absence from the inauguration of Macedonian President Gjorge Ivanov and the cancellation of his visit to Macedonia had any effect on the establishment of diplomatic relations.
Last month, Sejdiu canceled his visit to the neighboring country after Skopje moved to downgraded the the visit from "official" to "working", saying it had not yet established full diplomatic relations with Pristina.
Skopje recognized Pristina's independence last year, but struggles to balance good relations with both Serbia, which is strongly opposed to Kosovo's independence, and Kosovo itself.