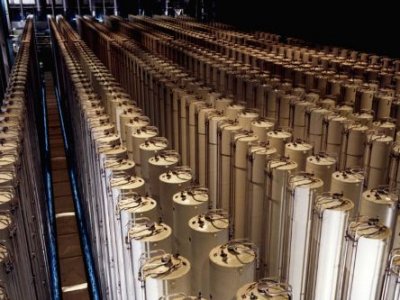 Serbia plans to ship thousands of kilograms of spent nuclear fuel to Russia as it seeks to avert security threats and decommission a research reactor, a government official said on Tuesday.
The Vinca Nuclear Institute, 17 km (11 miles) southeast of Belgrade, will ship 2.5 tonnes of spent fuel rods and 13 kg of highly enriched uranium via Russia's state-run Rosatom corporation, deputy science minister Miroslav Veskovic said.
"We are concerned over security and safety," Veskovic said in an interview, adding that the nuclear waste would be sent to Russia for reprocessing and storage.
Radioactive material at decrepit and sometimes poorly guarded facilities in many countries poses environmental risks, and security officials worry about the dangers if any of it were to fall into the hands of terrorists.
Veskovic acknowledged that while the Vinca material would be difficult to process into a weapons-grade substance, there was "potential for a dirty bomb" — a device in which conventional explosives are laced with radioactive material that could contaminate a large area when the bomb goes off.
The former Soviet Union gave the fuel rods to the Vinca institute in 1976 for research work. In a 2009 report, officials said there were 8,030 used rods at Vinca's spent fuel pool, only 2 km (1.25 miles) from the River Danube. In 2002, Serbia shipped 6,000 unused fuel rods to Russia.
LEAKING CONTAINERS
In a report on Vinca this year, the International Atomic Energy Agency (IAEA) said conditions at the fuel storage pool were still poor. A third of spent rod containers were leaking.
The $54 million deal with Rosatom envisions repatriation of nuclear waste to Russia, improvement of waste management and total decommissioning of the larger of Vinca's two reactors.
Packing and transportation can start only after Russian experts bring equipment and storage containers and train local personnel. "I believe we might start packing nuclear waste in special containers early this fall," Veskovic said.
Since the ouster of former Yugoslav President Slobodan Milosevic in 2000, Serbia has received millions of dollars in aid from the United States, IAEA and non-governmental organisations to clean up Vinca and other facilities.
"It's a time-consuming, tedious and expensive process. Each step requires careful planing and training," Veskovic said. About 5,000 other radioactive items for medical and industrial use are also stored in rusty hangars inside the Vinca compound.
"A new storage facility is slated for opening in July," Veskovic said. IAEA chief Mohamed ElBaradei will likely attend the opening during a visit to Serbia early next month.