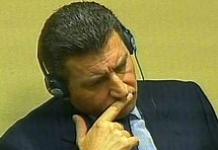 Former Yugoslav Army general and convicted war criminal Mile Mrksic has concluded his five-day-long testimony as a witness for the defence of Croatian General Ante Gotovina, accused of deporting Serbs from Knin Krajina in 1995 under Operation Storm.
Mrksic had initially refused to testify, but was subpoenaed by the court, allowing his lawyer to be present, which is not usually not the case in the ICTY.
Gotovina is accused of the persecution, forced relocation and deportation of Serb civilians, stealing public and private property, murder and inhumane acts, and cruel treatment of Serb civilians in August and September 1995.
Gotovina's defence argues that that the strings in Krajina were pulled from Belgrade and that Croatia had every reason to fear the advance of the Serb joint forces towards the eastern Bosnian city of Bihac.
Mrksic testified that former Serbian president Slobodan Milosevic had called for a solution in Croatia based on "co-existence, not war," and that regarding the war crimes comitted against Serbs in the Krajina, former Croatian president Franjo Tudjman, Bosnian Serb army commander Ratko Mladic and Serbian intelligence should be held accountable.
In 2007, Mrksic was sentenced by the ICTY to 20 years as an accomplice in the murder of Croatian prisoners in Vukovar in 1991.
Mrksic said he was made commander in May 1995 after a successful Croatian offensive in western Slavonia. He also confirmed that, prior to that, he had been an adviser to the Yugoslav Defence Minister.
He testified that Milosevic had insured him that Tudjman promised that the Croatian army would not launch the offensive until December 1995, while Serbian military intelligence said that Krajina would not be a prime military goal when the offensive was launched.
Though Mrksic several times praised Gotovina's commanding skills, he said that it was unnecessary to shell civilians targets.
Mrksic confirmed during questioning that his military forces had participated in Operation Spider in June 1995 in support of Fikret Abdic's autonomy bid in the Cazinska Krajina in Bosnia, and that Milorad Ulemek's special units had also been involved.