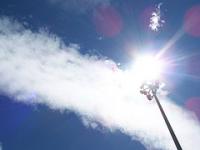 Slovenia and Croatia have entered into a new diplomatic dispute when Slovenia accused its neighbor of violating its airspace only a few days after Slovenia blocked Croatia's EU accession talks.
The Slovenian news agency STA reported on Saturday that two Croatian fighter jets, which were escorting a foreign delegation, had violated Slovenia's airspace on June 19. 
The two MIG 21 planes entered Slovenian airspace near the Lendava municipality and returned after covering 8 kilometres inside Slovenian territory. They were to escort Chinese President Hu Jintao, who was arriving in Zagreb from the direction of Bratislava, Slovakia.
The Slovenian Foreign Ministry has delivered an angry protest note to the Croatian embassy in Ljubljana. The Croatian embassy has not yet responded with the expected note of apology over the incident, reports said.
The Slovenian Foreign Ministry intends to report the incident to NATO High Command, which is tasked with protecting Slovenian airspace. STA news agency said that the Slovenian government was treating the matter as an incident and not as a threat or provocation.
Croatia's Javno.hr internet portal quoted a Croatian Defense Ministry source as saying that the incident should not be taken too seriously, pointing out that Slovenian aircraft frequently violate Croatian airspace. The source said that the flight along the border on June 19 had been announced to Slovenian authorities in advance.
According to Croatia's Jutarnji List daily, the Slovenian Center for Air Traffic Control issued a warning to the Croatian planes entering Slovenian airspace, and that the pilots left Slovenian airspace within a minute of receiving the warning.
The Slovenian daily Dnevnik reports that the incident was not made public in order to prevent further straining of the atmosphere over the border dispute between the two countries.
On Thursday, the EU cancelled the next round of accession negotiations with Croatia planned for Friday, giving no new date talks.
EU officials said no progress had been made towards brokering a deal between two countries. Despite substantial efforts to facilitate a solution to the country's border dispute with Slovenia, Croatia's accession talks remain blocked and no new chapters can be formally opened or closed," read an EU statement.
Slovenia and Croatia have been unable to agree on their common land and sea borders since they both seceded from Yugoslavia in 1991. In April, the EU proposed to creation of a tribunal to arbitrate in the dispute, but there has been little, if any, progress.
Croatia hopes to become the EU's 28th member by 2011, but that timetable might now be extended. Slovenia, a EU member since 2004, partially blocked Croatia's previous round of accession negotiations with the EU in December. Last week, Slovenia blocked the closing of another chapter, on statistics, in Croatia's EU accession negotiations, leaving Zagreb with a total of 13 blocked chapters.