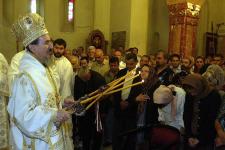 Serbs nationwide marked Vidovdan (St. Vitus Day) at the weekend, a largely celebrated religious and national holiday.
On Sunday, the largest crowd since 1999 gathered for the Vidovdan celebrations, with several thousand people in Gazimestan, located near the Kosovo capital of Pristina, attending a ceremony commemorating the 620th anniversary of the Battle of Kosovo.
A religious ceremony dedicated to the spirits of fallen soldiers in the famous battle was delivered by the Serbian Orthodox Church.
There were no reports of incidents in the province as Kosovo police and KFOR increased their presence around the Serbian enclaves of Gracanica, Mitrovica and Gazimestan.
In Gazimestan, Serbian Orthodox bishop Artemije addressed worshipers, claiming that Kosovo was holy Serb land, soaked with the blood and tears of their ancestors.
"Kosovo was and will be the heart of Serbia, just as it was 620 years ago," he said.
Kosovo police and Czech KFOR soldiers provided security to the area. Over 60 buses and several hundred private vehicles arriving from across Serbia, Montenegro and Bosnia's Serb-dominated entity of Republika Srpska.