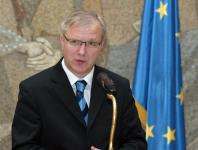 EU officials in Brussels admit Sunday's crucial parliamentary elections in Albania demonstrated electoral progress, but warn that more needs to be done before the country can be said to have achieved full international standards.
EU Enlargement Commissioner Olli Rehn has noted in a statement that "tangible progress has been made in some areas.
"However, these improvements were overshadowed by the politicization of technical aspects of the election process as well by violence during the election campaign," he said.
Rehn also warned that a final definite assessment of the elections could not be given before the vote counting and tabulation is completed.
"However, these elections clearly underline the need for the Albanian political leadership, across party lines, to work hard in order to conduct elections in the future which fully meet international standards and have high public confidence of the Albanian voters," Rehn said.
The cabinet of the EU's High representative for common foreign policy and security, Javier Solana, has also welcomed the "overall improvement" achieved in Sunday's elections.
"We congratulate the population of Albania [on] their collective commitment to a future built on free, fair and transparent elections," Solana's spokesperson Cristina Gallach said. "While awaiting the final result of yesterday's elections, we encourage all parties to reaffirm their commitment to the necessary reforms, including sufficient administrative capacity to ensure the implementation of those reforms, "she added.
The overall electoral process in Albania is a crucial test for country's further European integration.
The Albanian government submitted its application for EU candidate status in April last year, despite warning from Europeans, including Rehn himself, not to undertake the move before the elections.
Though Sunday's vote was largely calm and peaceful, Albania's electoral past has been marred by fraud and violence.
After the application was submitted in April, European decision-makers stated that they would not consider it until after the elections.
The overall atmosphere, particularly the reactions of party leaders, following the publication of final results will be a decisive factor in determining Albania's readiness to become an EU member candidate.
On April 1, Albania became a full member of NATO. The NATO Parliamentary Assembly, which sent its own observers to Albania for the Sunday vote, said that the electoral process showed improvement, but that "violence persists".
"Progress has been achieved since the last parliamentary elections in 2005," Bruce George, Head of the delegation of the NATO Parliamentary Assembly, told reporters in Tirana. "However, greater efforts still need to be made by all political forces in order to meet demanding international standards," he added.