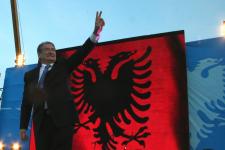 Albania's Democratic Party claimed victory in Sunday's parliamentary elections with 99 per cent of the ballots counted.
"Our coalition was certified by the people," Prime Minister Sali Berisha, head of the party, told a cabinet meeting on Wednesday. "EU integration will be the most important issue in the next four years in government," he added. 
However, it was not entirely clear whether Berisha's coalition would in fact secure all the mandates it needed to form the next government.
The counting of the final ballots in a polling station in Fier and in the village of Bushat, close to Shkodra, was also strongly contested by the opposition.
The Socialist Party head and Tirana mayor, Edi Rama, contested Berisha's claim of victory, arguing that the race was not over.
The Democratic Party's coalition, the "Alliance for Change," has so far won 70 deputies, ahead of the Socialist coalition's 66 deputies and the LSI-led coalition's four deputies.
With results now in from 4,709 out of 4,753 polling stations, the Democratic-led coalition led overall with 46.83 per cent, followed by the Socialist bloc on 45.39 per cent. The Socialist Movement for Integration, LSI, trailed in third place with 5.56 per cent. Berisha needs at least 71 seats in the 140-deputy chamber to form the new government.
Two newly elected deputies of the LSI declared to the media that they might move into a government with the Democratic Party. A settled political decision on the part of the LSI was expected on Thursday.
The LSI, a splinter party from the Socialists, tried repeatedly to cooperate with Rama before the elections; but its overtures were rejected bluntly by the Socialist leader.
The tense climate during the counting of the ballots, filled with accusations both from the government and the opposition, is expected to affect the final report of the OSCE/ODIHR on the Albania electoral process.
A preliminary report on Monday said that the poll had shown "marked progress" compared to previous elections, though it had fallen short of international standards.