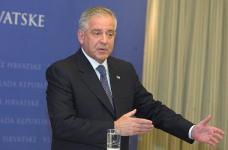 The abrupt resignation of Croatian Prime Minister Ivo Sanader, continued to draw praise but also much condemnation, both from Croatia and abroad.
"Despite Mr. Sanader's upbeat comments, he leaves the country in its worst economic state since the devastating 1991 war," reported the Wall Street Journal on Thursday.
The Croatian Prime Minister and president of one of the strongest Croatian parties, the Croat Democratic Union, HDZ, surprised his own countrymen, the region and the rest of the world on Wednesday afternoon after when he suddenly announced his resignation and complete withdrawal from politics.
"My job is done, my political life ends now," Senader told reporters at a news conference in Zagreb. He refused to reveal the motives for his decision, but indicated that slow pace of Croatia's EU integration had contributed significantly to his move.
As the reasons for his resignation remain unclear, the media have been speculating on his motives. Rumours ranging from the sickness of a close family member to a possible breaking scandal connected with government tenders have been floated.
The news quickly travelled across the country, the region and the globe. During the nine years of Sanader's reign, Croatia has become one of the most stable and prosperous countries in the region and he was seen as one of the most powerful, albeit often controversial, politicians.
In Croatia, Sanader's resignation triggered much condemnation, mostly related to the dire economic situation in Croatia. After years of prosperity, fuelled by high levels of foreign debt, Croatia now faces recession.
"The global crisis exposed underlying vulnerabilities in Croatia's economy. As elsewhere in the region, the high growth rates relied on an unsustainable credit boom, facilitated by easy access to domestic and foreign financing, despite some prudent fiscal measures taken by the authorities to curb credit growth," said the International Monetary Fund, IMF, in its recent report on Croatia.
The number of tourists in Croatian resorts is already showing at least eight percent decline and is expected to sink by 20 or even 30 percent by the end of the summer. Such a downturn could have devastating effects on Croatia`s tourism-dependent economy and jeopardise Croatia`s ability to service its foreign debt.
The news of Sanader's resignation rocked the Zagreb Stock Exchange, which plummeted by 6.5 percent.
"The situation in which our country has found itself the national interest to be placed above personal priorities, and everything else is irresponsible," president of Croatian Business Chamber,
Nadan Vidosevic, said in a press statement.
"He cannot and must not abandon the sinking ship and his citizens in this situation. That is not leadership. That is cowardice. That is not patriotism. There is no excuse," said Radimir Cacic, president of Croatia's opposition Peoples Party, HNS.
The Social Democratic Party's leader, Zoran Milanovic, has called for early elections, arguing that the appointment of a new government was a political necessity, rather than just a techical issue.
Sanader said he has recommended his deputy, Jadranka Kosor, as the best person to replace him.
Contrary to the overwhelming local criticism, Sanader and his work has been better received abroad.
Many EU officials, including EC President Jose Manuel Barroso and EU enlargement commissioner Olli Rehn, applauded Sanader for his past work, efforts and stamina. Even Slovenes, who have been blocking Croatia's EU membership and who have been negotiating hard with Sanader, commended his work.
Bosnian Croat officials also spoke highly of Sanader, who has been trying for the past few years to facilitate reunification of the two strongest Bosnian Croat parties, HDZ and HDZ1990.
Bosnia's HDZ president Dragan Covic told media that Sanader was "one of the few people who could run Croatia" and as such was "one of the most powerful politicians in the region."
The fifty-six-year old Sanader, had two years to go before his second term in office expired. He took over the Croatian HDZ in 2000 after the death of Franjo Tudjman and steered the party from hard line nationalism to a moderate centre-right position.
Under his leadership, Croatia joined NATO in April 2009, and was making big steps toward European Union membership until a border dispute with Slovenia stalled the process.
During his time in office, owing largely to more moderate policies Croatia recorded rapid economic growth and infrastructural development.