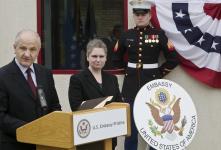 Pristina's Municipal Assembly is to hand five hectares of prime real estate to the US for a new embassy building, according to an agreement signed between the two parties on Wednesday.
The city decided to give this land to the US government as a sign of gratitude for the country's contribution to Kosovo's statehood. The US ambassador, Tina Kaidanow, said construction of the embassy might not start until 2013. 
"The land is property of the Pristina assembly and will be given for free to the US embassy," the municipal spokesperson, Muhamet Gashi, told Balkan Insight.
Dragodan, also known as Arberia, is considered the elite neighbourhood of Pristina, and is home to most embassies, diplomatic missions and ambassadors' residences. Gashi refused to put a value on the land. "We didn't make these calculations," he said.
According to Agron Beka, owner of Imobilije Real Estate Agency in Prishtina, the minimum price for 10 square metres of land in Dragodan would be €30,000. This would put a €15 million price tag on the five hectares of land, equivalent to five football pitches.
When questioned about the value of the land, Gashi added: "I don't want to enter into debates. This was a unanimous decision of 51 deputies for a friend country such as the US is."
The US has been given the land on a 99-year lease. The US opened a diplomatic office in Pristina in 1996. This was renamed the US Office to Pristina in 1999, following the end of conflict between NATO and Serbia.
Last year, following Kosovo's declaration of independence, the office became an embassy. The current US embassy is also located in the Dragodan neighbourhood.