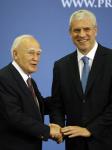 Greece's President Karolos Papoulias, during a trip to Belgrade, told media on Thursday that Greece gives Serbia its full support to European integration, hoping that the visa liberalisation process for Serbian citizens would be resolved by the end of the year.
At a news conference with his Serbian counterpart Boris Tadic at the Palace of Serbia on Thursday, Papoulias made clear that Greece's official position is that Serbia should become a member of the European family as soon as possible. 
On the topic of Kosovo, Papoulias explained the Greek position on the issue has always been clear, favoring a mutually-acceptable solution.
Tadic warmly thanked Papoulias for his stand on Kosovo, and for not recognising what Serbia regards as an illegal breakaway state.
"There are extreme political structures in Serbia, which would like to prove that all of Europe is against the interests of Serbia and its integrity in Kosovo… It is because of Greece, Spain, Romania, Slovakia and Cyprus, that we can clearly state that Europe is our home, too, and that there are countries in the EU which will never recognise the independence of Kosovo," Tadic told the press.
He stated strongly that Serbia will never recognise the independence of Kosovo, that "it is of utmost importance for Serbia that nobody is conditioning its EU membership on such acts."
Tadic also assured critics that Serbia is committed to cooperating with the Hague tribunal, and will continue to whatever it takes to fulfill its international obligations.
Papoulias, arrived on Thursday for a three-day visit to Serbia. So far he has had talks with Belgrade Mayor Dragan Djilas on cooperation and projects between Belgrade and Athens. He visited the University Village known as 'Belville' and met with Greek athletes who are here competing in the Universiade in Belgrade.
Today, Tadic will take Papoulias to the opening of an exhibition called 'Stolen History' at the Helsinki Fund for Culture in Belgrade.