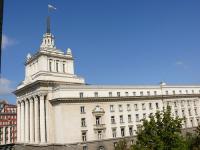 Voter turnout in Bulgaria's parliamentary election on Sunday will be between 55 and 60 per cent, according to polling agency Gallup, the latest agency to predict that more people will vote in the country's national elections than in the European Parliamentary poll.
Official figures put the turnout in the country's European Parliament elections on June 7 as 38.9 per cent.
With most agencies giving Boyko Borissov's Citizens for the European Development of Bulgaria, known as GERB, a lead of about 10 per cent over its closest rival, Sergey Stanishev's Bulgarian Socialist Party-dominated Coalition for Bulgaria, Gallup said that GERB would get from 26 to 30 per cent in the elections for the unicameral Parliament, the National Assembly.
On June 7, GERB got 24.36 per cent of votes.
Gallup gave the Coalition for Bulgaria 19 to 22 per cent, Ahmed Dogan's Movement for Rights and Freedoms, MRF, 13 to 15 per cent, Volen Siderov's far-right Ataka 9 to 11 per cent, the centre-right Blue Coalition seven to nine per cent, Yane Yanev's right-wing Order Law and Justice four and the LIDER with New Time coalition each four to six per cent.
The agency said that, based on its poll conducted in the week ending June 28, Simeon Saxe-Coburg's National Movement for Stability and Progress, NMSP, would get three to five per cent.
Results of a poll released on July 2 by the Centre for Analysis and Marketing gave GERB 33.2 per cent, the Socialists 22.7 per cent, the MRF 13.3 per cent, Ataka 8.7 per cent, the Blue Coalition 6.5 per cent, NMSP 3.9 per cent, and LIDER with New Time each 3.7 per cent.
In poll results announced on June 29, Barometer Info gave GERB 27 per cent, the Coalition for Bulgaria 18.5 per cent, Dogan's MRF 12.5 per cent, Ataka 9.5 per cent, the Blue Coalition nine per cent. Barometer Info said that parties that could get more than six per cent, thus putting them over the four per cent threshold for entry to the National Assembly, included the NMSP and LIDER-New Time. This would mean a Parliament with eight parties.