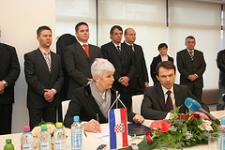 Croatian President Stjepan Mesic has mandated former Deputy Prime Minister Jadranka Kosor to form a new centre-right coalition government following the surprise resignation of Prime Minister Ivo Sanader last week.
"Jadranka Kosor has shown evidence that states that she has the needed majority support in the current assembly," news agencies quoted Mesic as saying.
The Croatian Parliament is expected to approve Kosor's appointment later today.
If the parliament gives her the green light, her first task will be to enforce budget cuts amidst the economic downturn, and revive EU accession talks, which have been stalled by a on-going border dispute with neighbouring Slovenia.
Kosor told local media she was convinced that a new government would be selected by July 6.
Kosor is the new president of the Croatian Democratic Union, HDZ, as of a vote on July 4. She was elected after Ivo Sanader surprised his own countrymen, the region and the rest of the world on Wednesday afternoon when he suddenly announced his resignation and complete withdrawal from politics.
Kosor has 30 days to win parliamentary approval for her cabinet. She has already secured support of the majority of deputies. Should she fail, early elections will have to be called.