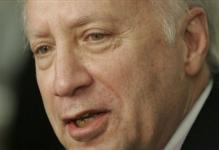 Matthew Nimetz, the UN mediator in the Greek-Macedonia "name" talks, arrives in Skopje today to commence a fresh round of consultations on a dispute that has kept the country from NATO membership.
Media speculate that the UN mediator will not bring any new name proposals for Macedonia to the table.
In a recent statement for state-owned Macedonian Radio and Television, Nimetz said he would ask the authorities to make a "serious effort" to find a solution to the long-standing row.
Later during the day Nimetz is scheduled to meet Macedonian President President Georgi Ivanov, Prime Minister Nikola Gruevski and Foreign Minister Antonio Milososki during which time he said he would "listen carefully to the positions of Macedonian side, so that we may advance in the negotiating process".
The following days Nimetz is set to visit Athens and to hear from Greek authorities on the dispute.
Last year, the row intensified, souring relations between the two neighboring countries when Athens blocked Skopje's NATO accession pending a solution.
Greece objects to Macedonia's formal name implies, which it believes indicates Skopje's territorial claims over its own northern province of the same name.
The last set of ideas for solving the row came at the end of last year when Nimetz, according to media, suggested the name "Northern Macedonia" as a compromise.
Media are speculating that the same name remains on the table, and the two sides stance on the name remains unclear.
The Skopje and Athens visits come after a meeting with the ambassadors of the two countries held in the UN quarters in Geneva on June 22. Nimetz then said that both sides were sticking to their original stances, but had demonstrated willingness to move towards a solution.
Athens has threatened to continue the blockade of Skopje's NATO accession and possibly its EU accession bid until a compromise is reached.