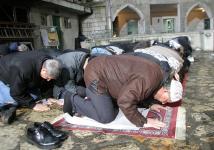 members of a radical Islamic Wahhabi movement to more than 60 years combined in prison after they were found guilty of planning terrorist activities and illegal weapons possession.
The alleged leader of the group, Senad Ramovic, was sentenced to 13 years, while another ten members received from six months to eight years in jail. Three members of the group were acquitted and one is being tried separately.
Fifteen members of the group were arrested in 2007 in Serbia's southern Sandzak region, which has a substantial Muslim population.
All pleaded not guilty when their trial opened in Belgrade in January 2008. They refused to engage defence lawyers, saying they did not recognize the legitimacy of the Serbian court.
Police said that in raids carried out in connection with the investigation, they discovered a mountain cave, used as a terrorist training ground that was packed with plastic explosives, masks and machine guns. Police also discovered maps and photos of buildings they were planning to blow up, including the US embassy in Belgrade.
It is alleged that the men were planning to kill Muharem Zukorlic, a local Muslim cleric, whom they believed was an American spy. Zukorlic testified at the trial that he had heard about a plot against his life, but pressed no charges.
The Serbian Prosecutor's Office said the convicted had close ties with fellow Islamists in neighboring countries, as well as in Saudi Arabia and Austria.
Although local media reports say their presence has increased in the Balkans in recent years, experts believe that they do not pose a major threat and that their numbers and power remain small.
Several incidents have taken place recently in Serbia's Sandzak region within the Muslim community, but no terrorist attacks have been reported.