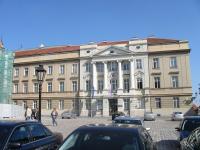 Rohatinski has told local media that the country needs 5.7 billion euros to finance this year's deficit, despite the fact that just two months ago, he said that financial aid would be unnecessary.
Rohatinski called on the government to follow a responsible fiscal policy in terms of public sector savings, or Croatia would be forced to ask for help from the International Monetary Fund, IMF, as the national bank was no longer capable of maintaining solvency, local media reported.
Croatia's gross domestic product, GDP, fell 6.7 per cent year-on-year in the first quarter, in the first decline in the past decade. The budget deficit amounts to 1.9 billion euros.
Just in April, Rohatinski had denied the need for emergency IMF funding, saying the country's financial system was stable.
Newly appointed Croatian Prime Minister Jadranka Kosor said she would not seek help from the IMF, vowing to press on with budget cuts instead. On Tuesday, her first day as new prime minister, Kosor recommended one billion euros in public spending cuts – a move that parliament will have to agree to.
The government will discuss the budget revision over the weekend and during an extraordinary session next week, Croatian state radio reported after the ruling Croatian Democratic Union, HDZ, led by Kosor, prepared the first draft.
Some newspapers said Kosor may try to raise value added tax, VAT, by one percentage point to 23 per cent, and hike excise taxes on cigarettes and alcohol. She said the government would not at the moment cut salaries or pensions, even though analysts believe such a move is inevitable and that those cuts will be introduced by the fall and could reach 10 per cent.