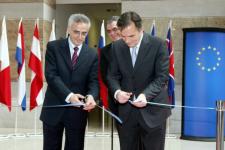 The chief of Bosnia's negotiating team for visa liberalisation has told local media that most of the work on fulfillment of conditions for a visa-free regime with the EU could be completed by September this year.
Negotiator Samir Rizvo said that among the requirements that remain to be addressed are those that have been stuck in a stalemate due to quarreling among Bosnian politicians.
"All Bosnian ministries are doing their best to complete the tasks given by the EU…If we don't succeed, we will have to fulfill the requirements by the end of year," Rizvo told FENA news agency.
Out of 120 requirements given to the Bosnian authorities by the EU, local politicians have left some 48 to pass and implement.
Italian Foreign Minister Franco Frattini said the EU hoped to ease visa restrictions for three Balkan countries within weeks.
He says initially Serbia, Montenegro and Macedonia will benefit from the measure, followed by Albania and Bosnia and Herzegovina.
The EC will hold a meeting next week at which time the proposal for putting Macedonia, Serbia and Montenegro on the Schengen white list will be discussed.