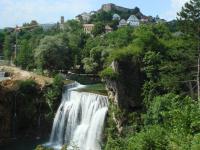 Serbian authorities have deported a man wanted by Bosnia for his suspected role in the execution of 23 Bosniak (Bosnian Muslim) civilians in the central Bosnian city of Jajce in 1992.
Zoran Maric, a former member of the Bosnian Serb army, was extradited on Tuesday on the basis of a warrant issued by authorities in Sarajevo.
Bosnia has indicted Maric for taking part in the wartime killing of 23 Bosniak civilians, including 10 women, one child and three minors in September 1992.
According to the indictment, the victims were taken from their homes in villages near Jajce and gunned down at another location. Four civilians survived the mass murder.
The indictment alleges that prior to this event, the civilians had limited freedom of movement and were under daily surveillance.
For the same crime, a Bosnian court sentenced another former Bosnian Serb soldier, Mirko Pekez, to 29 years in jail. Two other former Bosnian Serb army and police unit members, Milorad Savic and Mirko Pekez (cousin to the above-mentioned suspect of the same name) are awaiting trial, while two more remain at large and are believed to be hiding in Serbia, authorities say.
Last month, Serbian war crimes prosecutors vowed greater cooperation with their Bosnian counterparts to deport war crimes suspects and try and close cases more efficiently.