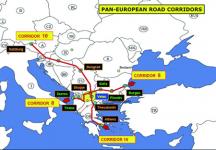 Serbian Prime Minister Mirko Cvetkovic has opened a 21-kilometre-long stretch of the highway on Corridor 10, between the border with Macedonia and the southern Serbian village of Levosoje near Bujanovac, around 350 kilometres south of Belgrade.
Cvetkovic said yesterday that the government had fulfilled its promise made to citizens exactly one year ago, when it was formed, to finish this section of the highway on schedule. 
"Exactly a year ago, we promised that the job would be done on July 7. The construction of Corridor 10 remains our priority," said Cvetkovic.
He said the stretch of highway had cost 13 million euros from the state budget.
The prime minister said the construction of the highway in south Serbia would resume in September, at which time they would begin work on a 16-kilometre stretch of the road between Levosoje and the village of Gornji Neradovac between Bujanovac and Vranje.
"The construction of that section will be financed by the Greek government," said Cvetkovic.
Aleksandar Cvetkovic, state secretary at the Ministry of Infrastructure, said that the money for the resumption of the construction of Corridor 10 in southern Serbia – an 80-kilometre stretch running all the way to Kragujevac in central Serbia – was secured from the World Bank and the European Investment Bank.
The opening of the highway was attended by many ministers from Cvetkovic's government, as well as the mayors of Vranje and Presevo.
Corridor 10, which runs through Serbia, is 835 kilometres long. Another 300 kilometres remain to be completed, a job experts estimate will require an additional 1.5 billion euros.