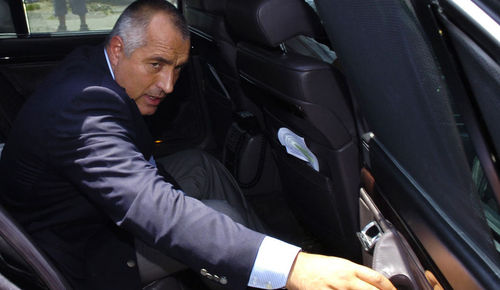 The new cabinet will be formed by July 27 2009, prime minister-to-be Boiko Borissov told reporters on July 9 2009, Bulgarian news agency Focus said.
President Georgi Purvanov will convene the newly-elected Parliament on July 14 2009, after which he will designate the leader of the party who won the biggest share of votes at the July 5 2009 elections – in this case Borissov's GERB – to form a cabinet.
Borissov said that negotiations with other right-wing parties who made it into Parliament on possible coalition government had not yet started. "We have put forward the people who would lead the negotiations," he said.
"I would not form a coalition government at any cost. If other parties' views are misleading to our supporters, then I am ready to form a GERB government, not a coalition one" he said.
According to Ivan Kostov, one of the leaders of the right-wing Blue Coalition, negotiations with GERB have started. The two parties met on July 8 2009 to discus the agenda of Parliament, he told private terrestrial bTV on July 9 2009.
"We did not make any demands to GERB because as future prime minister it is Borissov's responsibility to take decision about his cabinet". There were two options for Borissov, Kostov said. "One is to have a GERB government (GERB won 116 seats in the 240-seat Parliament) which we will support and the other is to have a coalition one".
On July 9 2009 Borissov alos said that as a result of the high turnout at the elections (60.2 per cent), "Brussels will unfreeze money to Bulgaria under the EU Sapard agriculture programme. A hundred and forty million EU were frozen last year after the EC found irregularities in the handling of the money. "I have the assurances of my colleagues in the EU that the money will be unfrozen," Focus quoted Borissov as saying.
"The EU has appreciated Bulgarians' desire to not be among the most corrupt and poor states," he said.
As for the outgoing Cabinet's decision on July 9 2009 to nominate five new ambassadors and five consuls despite Borissov's warning not to do so, Borissov said that outgoing Prime Minister Sergei Stanishev had appointed friends from his inner circles, Bulgarian news agency BGNES said.