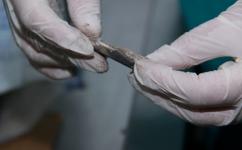 The remains of eight people have been discovered in a mass grave dating back to 1998, the EU rule-of-law mission in Kosovo has confirmed.
Following a tip-off that land next to the Gjilan to Kamenica road, in eastern Kosovo, had been dug up in 1998, EULEX and Kosovo Police began excavating the site on Thursday.
On the first day of work in the village of Dobercan, the remains of eight people were uncovered, and EULEX spokesman Christophe Lamfalussy said that much of the site had not yet been checked.
He said: "We started working on the site yesterday [Thursday] and we have found the remains of eight people."
EULEX's Office of the Missing Persons and Forensic Medicine, OMPF, is expected to continue excavation work during the weekend. The team includes five experts in anthropology, forensic pathology and exhumations.
Some 2,000 people remain missing following the conflict between ethnic-Albanians and Serbs in Kosovo, which ended with Nato intervention in 1999.