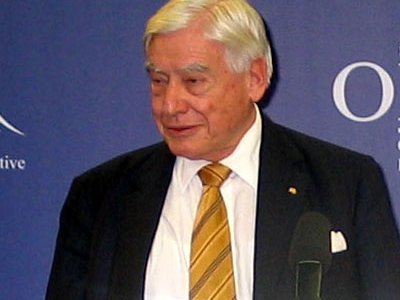 A plan to end EU visa requirements for Serbians but not for Bosnian Muslims who suffered at Serb hands in the bloody break-up of Yugoslavia will deepen ethnic divisions in the Balkans, critics said on Tuesday.
The Green group in the European Parliament termed the planned announcement, days after the 14th anniversary of the Srebrenica massacre of more than 8,000 Bosnian Muslim men and boys, "hypocritical and morally abject".
Christian Schwarz-Schilling, a former international high representative for Bosnia, called it "a mockery and a blow against all European values".
The executive European Commission plans to unveil on Wednesday a proposal to allow citizens of Serbia, as well as those of Montenegro and Macedonia, to travel to the European Union without visas from the start of next year.
It says a similar proposal covering Bosnia and Albania could follow in mid-2010 — once they meet EU standards.
Daniel Cohn-Bendit, co-president of the Greens in the European Parliament, said the plan "adds insult to injury" to the people who suffered most during the 1992-95 Bosnian war.
He said Bosnia's ambitions to join the European Union were hamstrung by Bosnian Serbs who were agitating for secession and would benefit from the visa-free regime due to dual citizenship.
"The proposed uneven-handed action will … formalise ethnic divisions, reward the obstruction tactics of nationalist politicians and deepen resentment in the region," he said.
"It is hypocritical and morally abject to bar one section of the Bosnian population from the same privileges on technical grounds."
"INCREDIBLE POLITICAL BLUNDER"
Schwarz-Schilling, a former German minister and high representative in Bosnia from 2006 to 2007, told the German newspaper Bild it was "an incredible political blunder" to exclude Bosnia, a country NATO, the United States and the EU had taken military action to defend.
They intervened in the war after Bosnian Serb forces led by General Ratko Mladic conducted the Srebrenica massacre in July 1995. Mladic remains at large, something that has stalled Serbia's EU entry bid.
At the weekend, Bosnia's Foreign Minister Sven Alkalaj said the visa plan would create a "ghetto" for Bosnian Muslims.
Bosnia's best-selling daily Dnevni Avaz said the EU was sending a dangerous political message by rewarding Serbia, a country it said was still sheltering war-crimes fugitives.
"Does it mean the European Union (with some honourable exceptions) has never been interested in punishing war crimes committed in Bosnia and the Balkans?" it asked.
"How come a legal system that is sheltering the worst war criminals is eligible for the EU and Bosnia is not?"
The EU sees visa-free travel and eventual EU membership as a means to ensure long-term stability in the Balkans.
Citizens of the former Yugoslavia used to be able to travel visa-free to Western Europe until Yugoslavia's break-up in the 1990s. Of the ex-Yugoslav states, only Slovenia is an EU member, but neighbouring Croatia already has visa-free status.